Master this takeout classic once and for all.
Fried rice is a dish we turn to again…and again because it's not only super easy to make, but also SO adaptable based on what ingredients are hanging out in your fridge. We love beef fried rice  and even hot dog fried rice  (don't knock it 'til you try it). Before you make a batch, read our tips for making perfect fried rice.
Sesame oil > any other oil.
Sesame oil is one of those kitchen cupboard staples that you might resist buying ("Do I really need another oil?!"), but once you do you'll want to use it in everything. Fried rice is one of those recipes we find sesame oil really enhances. If you don't want to use sesame, a neutral oil like vegetable is best.
Cold rice is key.
The reason why so many fried rice recipes call for leftover rice: Dried out cold rice gets much crispier in the pan than the freshly cooked stuff. If you're craving fried rice and don't want to wait for the rice to chill in the fridge, spread freshly cooked rice on a baking sheet and freeze it for 10 to 15 minutes.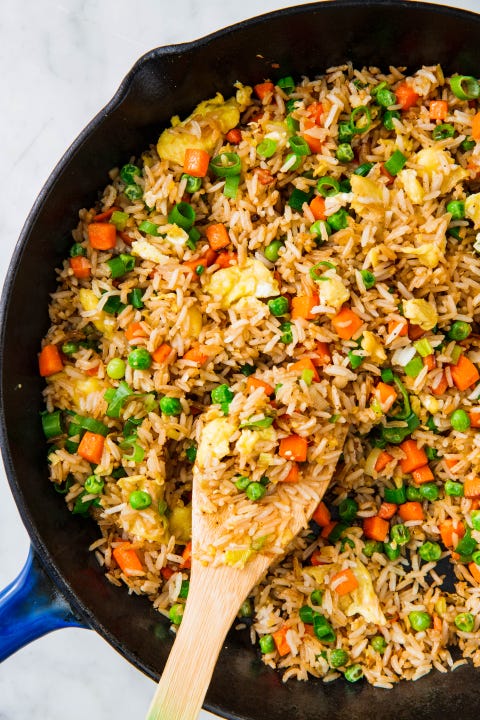 INGREDIENTS

3 tbsp. sesame oil
3 large eggs
Salt
2 carrots, diced
3 spring onions, thinly sliced, white and green parts divided
3 cloves garlic, crushed
1 tbsp. peeled and crushed ginger (from a 2.5cm piece)
800 g cooked long grain rice (preferably leftover)
115 g frozen peas
3 tbsp. low-sodium soy sauce 
DIRECTIONS
Heat a large cast iron skillet over high heat until very hot, about 2 minutes. Add 1 tablespoon oil.
Beat egg with 2 teaspoons water and a large pinch salt and add to skillet. Cook, stirring to form large soft curds, about 30 seconds. Transfer to a plate.
Return skillet to high heat and add 2 tablespoons oil, the carrots, and whites of the spring onions. Cook until lightly golden, about 2 minutes. Add garlic and ginger and cook, stirring, until fragrant, 1 minute.
Add rice, peas, and cooked eggs to skillet. Pour in soy sauce and cook, stirring until heated through, 1 minute. Season with salt and pepper and stir in the remaining spring onions.
MOST QUESTIONS WE GET
Do I need to scramble my eggs separately or can I do it all in one pan?
You can totally start your rice by cooking the vegetables and then push them to one side of the pan and crack in your eggs and get scrambling. We find that the eggs can easily overcook this way, so prefer to scramble them separately first.
What other flavour goes into fried rice?
The beauty of fried rice is that there are enough textures going on that it doesn't need much. Aside from sesame oil, which delivers a toasty nutty flavour, we stir in fresh ginger (you can sub in ground, but we prefer the strong zing from the fresh stuff), garlic, and soy sauce.